The Region
The Northwest is a hub of the global tech sector, and its vibrant cities and natural beauty make tourism a bedrock of the economy.
The region consists of Cascadia—the strip of land along the West Coast that includes Seattle and Portland—and the northern states of the Mountain West.
Cascadia is growing rapidly, both in population and resources. It will add up to 3.5 million people to the current population of 9 million by 2040, and its GDP per capita is among the highest in North America. Millions of tourists visit the Mountain West states each year for the spectacular skiing, hiking, and other outdoor adventures.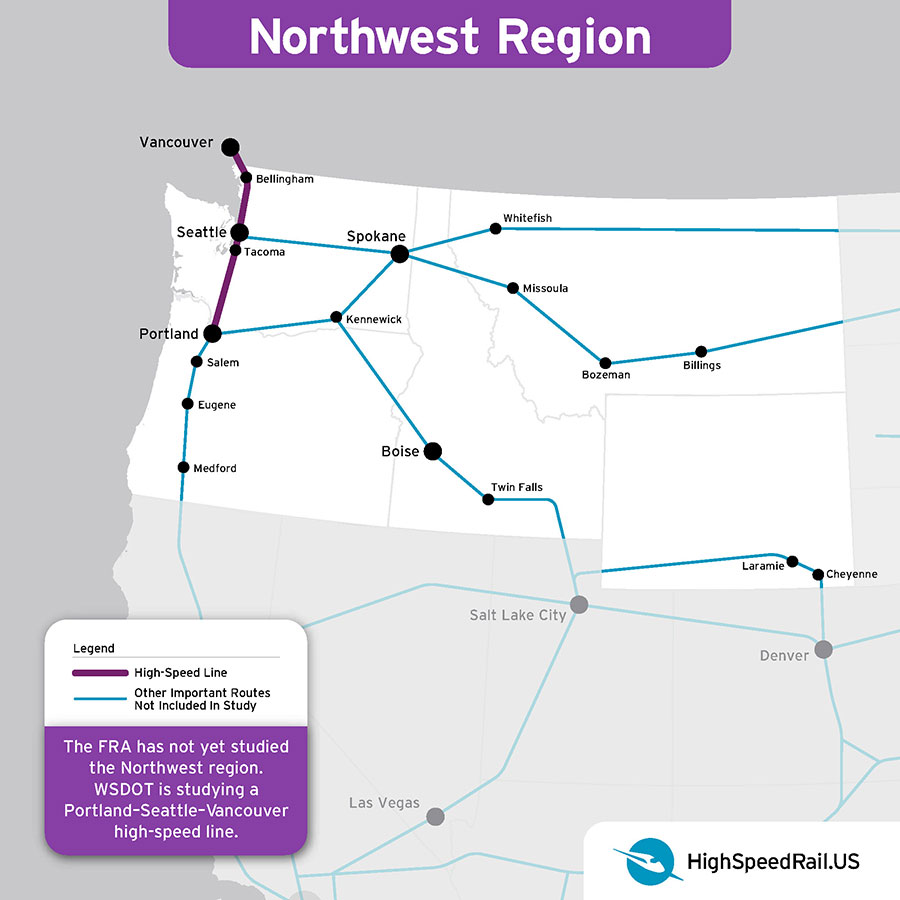 State of Development
The Federal Railroad Administration has not yet done a plan for the region, but other important projects are underway:
Cascadia Ultra High-Speed
A proposed high-speed line through Cascadia would create a one-hour trip from Seattle to Portland or Vancouver. The drive takes three hours.
Amtrak Cascades
Amtrak's Cascades route offers important lessons for shared-use lines.
Inter-Regional
The Federal Railroad Administration may study improved or restored service on four Amtrak routes that are vital to the Northwest, especially its rural areas: Seattle to LA; two routes running from Seattle to Chicago; and Denver to Portland.
Cascadia Ultra-High-Speed Rail
The Washington Department of Transportation is leading an effort to build a transformative, state-of-the-art high-speed line to help solve the region's economic, environmental, and sustainability challenges.
A Cascadia ultra-HSR line, running at up to 250 mph, would take riders from Seattle to Portland or Vancouver (B.C.) in about an hour. That's three times faster than car trips and flights (with terminal time). The projected cost is less than half the price of adding a single lane in each direction to I-5: $42 billion for HSR versus $108 billion for the new lane.
Impact:
Cascadia's HSR project serves as a model on multiple levels. By cooperating and building partnerships across state lines—and across public/private boundaries—the region is poised to strengthen its competitiveness, expand access to affordable housing, slash carbon emissions, reduce gridlock, and give all residents better access to good-paying jobs.
Challenges:
Several studies have shown the urgent need for the line and its economic viability. And public support is broad and strong. But the lack of a strong federal program makes implementation difficult. Washington state is working closely with British Columbia and Oregon to create a new governing body to fill the gap.
Amtrak Cascades
Amtrak's Cascades line—running from Eugene, OR, to Vancouver, B.C.—is dramatically under-utilized. Improving the frequency and speed of service on the line is critical to the entire region's economic vitality, sustainability, and livability.
In 2006, the Washington Department of Transportation developed a plan to expand the Cascades line to more than a dozen daily round trips—at a little under 3 hours each way—from Portland to Seattle. A 2010 federal grant allowed some progress towards that plan, but the project has stalled.
The Cascades already attracted more than 800,000 riders annually (prior to the pandemic), offering just a handful of roundtrips and a ride of 3 to 4 hours. It has vast potential to be much more.
Impact:
Upgrading service on the Cascades will also build support—and ridership—for the long-term goal of a high-speed line from Portland to Vancouver. And it will drive upgrades to local transit systems in Portland, Seattle, and other cities in Cascadia. Better train service always incentivizes better transit service.
Challenge:
A regional, long-term plan by the Federal Railroad Administration is needed to create momentum and pull all these possibilities together. It could show the potential synergies—and paradigm-shifting power—of integrating the Cascades line, high-speed trains, Amtrak's long-distance routes, and local transit systems into a world-class transportation network.