The Region
The Southwest is home to the global epicenter of popular entertainment—Los Angeles—and dozens of premiere tourist destinations.
Notably, Las Vegas draws more than 40 million people annually. And people from across the world flock to cities like San Diego for sunshine and beaches; to San Francisco for iconic views and stellar cuisine; and to Denver, Salt Lake City, Santa Fe, and scores of other towns and cities for unforgettable outdoor, cultural, and culinary experiences.
Water-scarcity issues have motivated Southwestern cities and states to become leaders in the sustainability sector. Similarly, rapid population growth—and the innovative spirit that makes the region an international hub of tech start-ups—are motivating it to invest in world-class, 21st-century transportation options.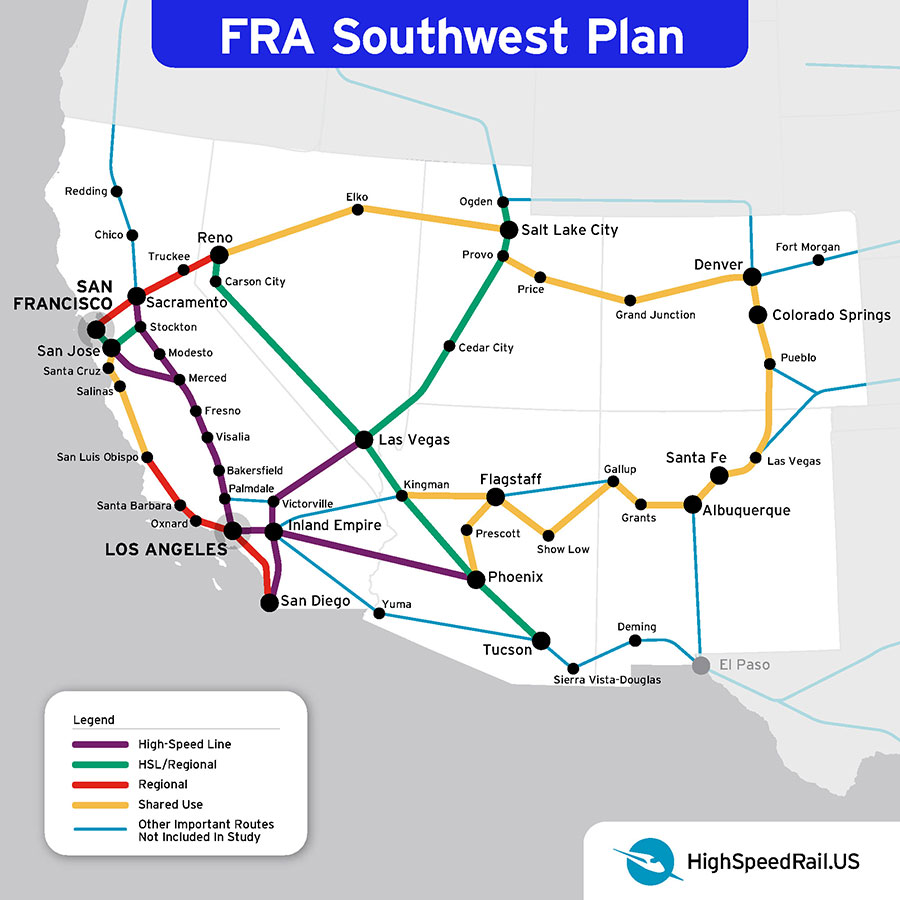 State of Development
The Federal Railroad Administration published a rail planning study that focused on the Southwest in 2014. It was the first regional study of its kind by the FRA. The study noted that air travel between the region's major cities could more than triple by 2050.
California High Speed Rail
California voters committed to major investments in the state's train and transit systems in the early 1990s. That commitment culminated in the approval of a high-speed line connecting San Francisco to Los Angeles with trains running at up to 217 mph. The endpoint-to-endpoint trip will be under 3 hours.
The line is being built in stages, starting in the Central Valley, which is home to about 4 million people, a thriving agribusiness sector, and dozens of colleges and universities. That segment will eventually connect to San Fransisco and LA via tunnels through the mountains east of those cities. This phased approach allows the line to begin delivering results before it's fully completed.
Impact:
The project is having wide-ranging impacts at the national, state, and local levels. It's already driving major upgrades to the Bay Area's commuter-rail system, Caltrain, and to Union Station in Los Angeles. And it has incentivized construction of a Brightline high-speed line from Las Vegas to LA. Brightline trains will begin running in the late 2020s—around the same time as the Central Valley segment of the high-speed rail system.
Challenges:
The California High Speed Rail Authority has already secured environmental clearance for two critical segments of the line: the Pacheco Pass (east of the Bay Area) and the Tehachapi Pass (east of LA). These segments pose the challenge of tunneling through mountains. Maintaining political will and securing sufficient funding are (and always have been) the project's biggest challenges.
Brightline West
Building on its successes in Florida, Brightline is constructing a roughly 260-mile line between Las Vegas and the outskirts of LA, where riders can transfer to LA's Metrolink commuter trains.
The trip will take a little over 2 hours. The line, which will run along the median of I-15, is expected to capture about 20 percent of the travel market for that route. The highway is so congested that driving takes upward of 4 hours during peak periods. Brightline secured low-cost financing from California to construct the line, which will help keep ticket prices competitive with flying.
Impact:
Brightline's plans have developed in conjunction with construction of the California high-speed line's Central Valley segment. Both lines will be operational by the late 2020s, and they will feed riders between each other. And, as in Florida, Brightline has negotiated with state agencies for the rights to use the highway median. Both Brightline projects are excellent models of the possibilities for innovative public-private railroad partnerships.
Challenges:
A Las Vegas to Los Angeles has immense potential because of the time savings, convenience, and stress reduction that trains offer. And Brightline has built a solid base of expertise with its Florida trains. But the region is famously car-centric. Incentivizing drivers to take trains will require excellent service at a competitive price.