A single mile of track through the heart of Chicago is key to a Midwest high-speed rail network
The St. Charles Air Line is a little known but critical factor for the future of passenger rail in the Midwest. This century-old, elevated rail corridor runs east/west just a few blocks from Lake Shore Drive to the Chicago River between 15th and 16th Streets.
There are other routes into and out of Chicago. But they are slow and congested with freight traffic. The St. Charles Air Line provides an essential link between the best passenger routes south and east of Chicago and the best routes north and west.
St. Charles Air Line: Existing Track Layout
The best passenger route options do not connect well – or connect at all – with Chicago Union Station.
An upgraded St. Charles Air Line could fix that with connections to Metra's Rock Island Line and CN's Lakefront Line – both of which offer better potential paths into Chicago from the south and east.
Amtrak does currently use the St. Charles Air Line to access Union Station, but the trip involves a slow and tedious back-up move that adds a lot of extra time to train schedules.
St. Charles Air Line: Proposed Track Layout
Amtrak has proposed the following group of projects to create a new Crosstown Connector:
A new ramp up to the St. Charles Air Line to eliminate the back-up move
Upgrading the St. Charles Air Line, including restoring an out-of-service bridge
A faster connection to the Rock Island line, combined with a new platform at Joliet
Upgrading the CN-owned Lakefront Line to Kensington, in the Pullman neighborhood
Potential Benefits
These initial investments are the first steps toward a modernization of services across the Midwest. Further investments—such as CrossRail Chicago, which includes the Crosstown Connector but goes far beyond it—could create significant time savings, reductions in delays, more reliable schedules, and entirely new services.
Crosstown Metra
A one-seat ride from the O'Hare Transfer station to McCormick Place would be feasible.
More importantly, through trains—between any station on the Rock Island and Metra Electric routes, to any station on the Milwaukee District routes—would be possible via the Crosstown Connector.
One exciting possibility is a Metra Crosstown Express network as illustrated here.
Unlocking the Rock
Lincoln Service:
Bloomington/Normal – Springfield – St. Louis, etc.
The current route to Joliet has four delay points, where trains can stall for 15 minutes or more.
The Connector would allow Amtrak trains to use the Rock Island District, which is owned by Metra and has few freight movements. This would make Lincoln Service trains more reliable and set the stage for filling gaps in the existing schedule.
Rock Island Route:
La Salle-Peru, Peoria, Moline, Iowa City, etc.
The City of Peoria is leading a coalition to establish new service to towns along the Illinois Valley. The Connector would allow those trains to access Union Station instead of La Salle St. Station.
The improvements for Peoria could also set the stage for increasing daily departures on the Moline route beyond the initial two daily roundtrips currently under development.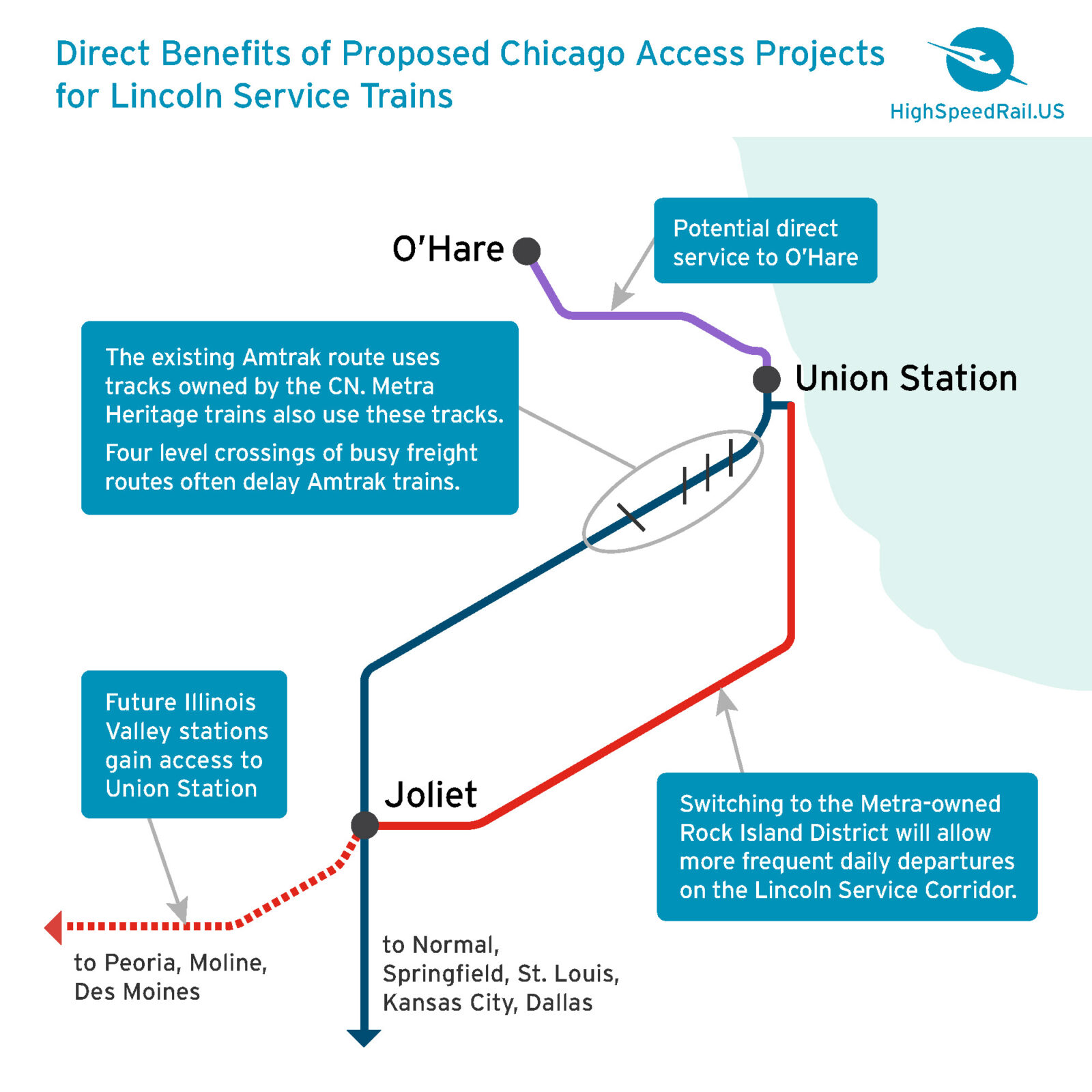 Amtrak has begun initial work through the Chicago Hub Improvement Program (CHIP), but Congress must fully fund the Federal Railroad Administration to make projects like this a reality.