Building a stronger, more dynamic airport
Frankfurt, located in the west-central part of the country, is Germany's fifth-largest city. It's a major financial and corporate headquarters center, with specializations in banking, technology, transportation, automotive, media and creative industries.
And the air-rail integration at Frankfurt's airport is an example of some best practices we'd like to see implemented at major airports across the country.
This page is an excerpt from a report done for the High Speed Rail Alliance by Andrew R. Goetz, Anthony D. Perl, Eric C. Bruun, and Daniel Zimny-Schmit. Download the full report.
It started in 1972
The Frankfurt Airport is the busiest airport in Germany and was the 4th busiest in Europe in 2019. It's also the major hub airport for Lufthansa, Germany's principal airline.
Frankfurt's air-rail integration began half a century ago, with the construction of the airport's first railroad station in 1972, which hosted both regional and intercity trains until 1999.  Now, it is focused on regional trains.
In 1999, the airport's intercity station opened, providing service to more than 60 destinations, primarily with high-speed trains and some regional trains.
Frequent departures at both stations offer a 12 minute link to hundreds of connections at Frankfurt Haptbahnhof (Central Station).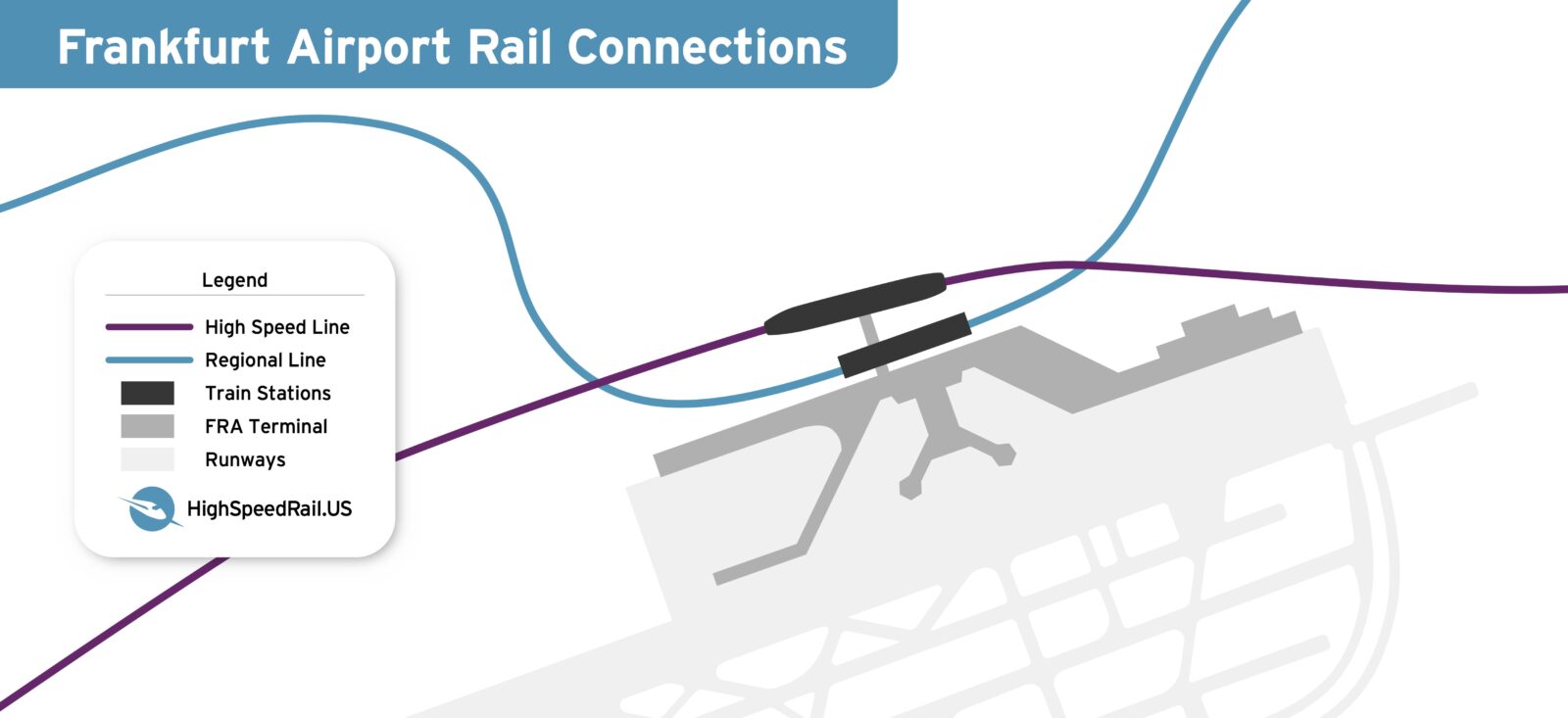 Both railroad stations are an easy walk from Frankfurt Airport's main terminals.
Frankfurt Airport was able to quickly respond to a 2021 directive to slash the number of short flights .
Benefits abound … for travelers, airlines and the airport
Frankfurt's success is demonstrated in the high share of air passengers who use trains to get to their flights, the increasing airport catchment area and the overall increase in airport traffic (fewer short-haul flights but more long-haul flights).
Lufthansa has been able to shift its resources to more lucrative long-haul flights while withdrawing from less profitable short-haul flights.
DB has expanded its HSR network and can accommodate increased passenger demand more effectively than air or road modes.
Fraport has benefited from growing passenger traffic and increased catchment area.
Passengers benefit from improved travel choices.
How Frankfurt's air-rail integration succeeded
There are several institutional factors that have allowed planes and trains to thrive together in central Germany:
A specific policy to bring the vision to life
The Cologne-Frankfurt high-speed line – a successful feeder to the airport
The AIRail alliance between air and rail carriers
An airport-based intermodal manager who provides coordination among the parties
Real estate development in the railroad station that provides additional revenue
Additionally, through-ticketing and baggage service for Lufthansa and Star Alliance partner flights to DB high-speed trains make connections more convenient.  Passengers can check their luggage prior to boarding their train and collect it at their final air destination – saving them considerable time and stress.
The highly-successful joint-ticketing arrangement requires coordination across agencies.
Its time for Chicago to build a high-speed rail station at O'Hare.
O'Hare can do the same
While Europe and the midwestern United States have obvious cultural and geographical differences, HSRA sees lessons from Frankfurt that could be applied to high-speed rail from Chicago's O'Hare International. We'd see less congested interstates, more pleasant regional travel and a positive impact on the environment.
Let's take a page from the airport in Frankfurt, as well as Copenhagen and Paris – and be ready to support actions in upcoming federal or state legislation that will help bring high-speed rail to and from the Midwest's busiest airport.