By: Rick Harnish, Executive Director
I had the pleasure of riding Brightline's new service from Orlando to West Palm Beach (and back) in early October before attending the American Public Transportation Expo. Here are some initial impressions:
The Orlando Brightline station is located off the hallway that connects to the bus, taxi, and pickup center for Terminal C.
The Orlando station currently has two tracks and can be expanded to four.
The trains are full
Our predictions that Brightline would attract a lot of new riders are coming true—and then some. There were few if any empty seats on the 231-seat trains, even with the relatively high fares. For comparison, Southwest's biggest plane has 175 seats.
Brightline will more than double the size of its trains as soon as new coaches can be delivered, making them more than 100 seats bigger than United's biggest jet.
A piece of evidence regarding newbies
An onboard announcement assures riders that the horn going off regularly is perfectly normal. Most of the route is on a shared-use line with routine highway crossings. At 90 mph (soon to be 110 mph), that means the horn is sounding much of the way. Frequent train riders know this means that the train is going fast—and they welcome it. But new riders often find it startling. So, the need for a message of reassurance speaks volumes about how many new people are using the train. Brightline offers complimentary earplugs if the horn bothers you.
It isn't cramped like an airplane, but this Smart class coach is full.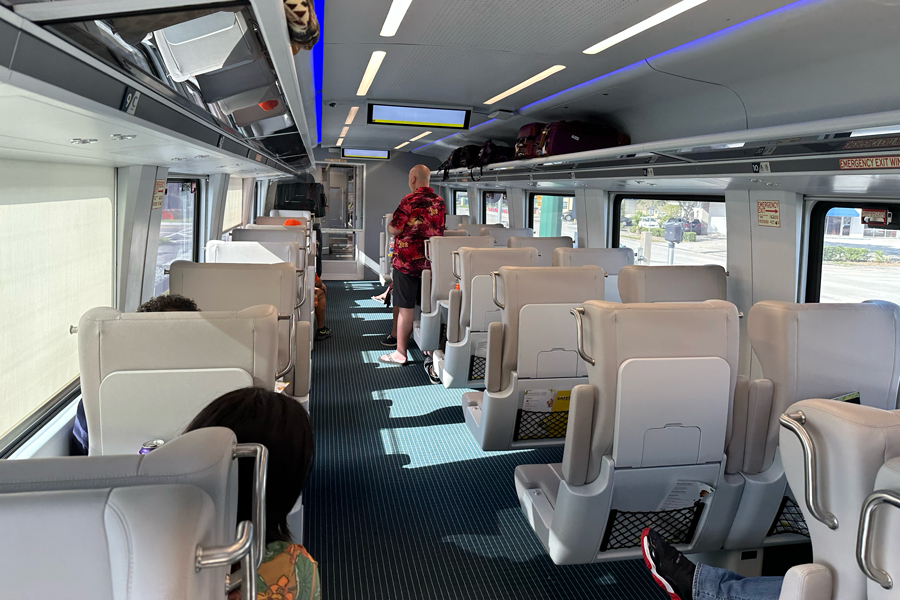 Premium class has wide seats in 2-1 seating.
More anecdotal evidence about new customers using Brightline
I met a family of Lionel Messi fans headed to Miami for a Saturday-evening soccer match, and they planned to return home the same day. The dad said they'd never ridden a train before. He was enjoying the trip, found the seats comfortable, and was very happy to avoid an 8+ hour roundtrip drive—especially the drive home on a Saturday night.
It was a great experience
Several features make the experience better than most U.S. train riders expect—starting with level boarding; assigned seating (through an excellent app); stations that are clean and bright, with good signage; and a checked baggage requirement for luggage over a certain size, to keep the aisles free of clutter.
The waiting room of the West Palm Beach, FL Brightline station is very inviting.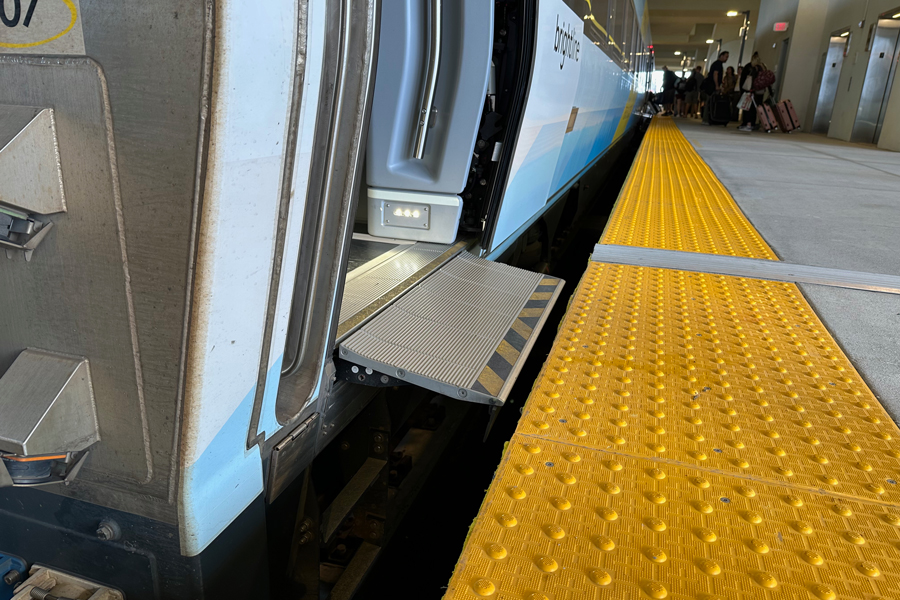 Brightline's automatic bridgeplate is a great way to achieve level boarding on a heavy-haul railroad.
Level boarding makes a huge difference
In addition to making it easy for almost everyone to board unassisted, level boarding is important for many reasons.  It is a better experience for everyone and it reduces the amount of time spent spent in the station.
It has been difficult to achieve on America's heavy-haul railroads.  Brightline's sliding bridge plates seem to be a great solution. Hopefully, BNSF, CSX, CN, CP, Norfolk Southern, and Union Pacific will embrace the concept.
The air/rail integration works very well
The Orlando station will be totally integrated with the airport's new Terminal C, which opens soon and will be great. It is an easy people-mover ride away from the old terminal, and good signage made the connection easy.
Thankfully, an official state high-speed rail plan—adopted in the early-1990s—made it possible to build the railroad station.
The wayfinding signs when leaving the secure area of the Orlando Airport makes it easy to find the train station.
A transit bus station is not visible but is in the frame. Brightline's Convention Center/Universal Studios station will be next to the bus station.
The Convention Center station can't come too soon.
The planned extension to Tampa—via the Convention Center/Universal Studios and Disney Springs—is much needed. The Convention Center/Universal Studios station will include an integrated transit station.  This section of Orlando is very dysfunctional, and the Universal Studios-financed station will make decent transit much more feasible for this "neighborhood."
Passing traffic doesn't get old
Blowing past highway traffic on a train is very common abroad but very rare in the U.S., unfortunately. In Florida—one of the fastest growing states in America, with lots of popular tourist destinations—Brightline gives tens of thousands of riders that experience every week – at 125 mph.
A Brightline train bound for Miami is pulling into West Palm Beach station.
The upshot?
Brightline is raising the bar for what many Americans expect from train service. For that reason, it's a high-impact, long overdue, and very welcome addition to our transportation mix.