Featuring frequent, comfortable, modern trains, this entirely new service has already carried 1.5 million passengers in its first two years – with just three initial stations. Launched in 2018, it's the first privately-held intercity passenger railroad in the U.S. in nearly 40 years, and it has an aggressive expansion plan.
Brightline Schedule Offers Frequent Departures
Brightline Florida makes frequent departures a priority, offering 17 per day in both directions.
Total travel time includes every stage of your journey – including waiting. So more trains = more options = shorter wait times = faster overall trips. And with hourly departures from the early morning to late in the evening, the Brightline train schedule ensures its customers have the flexibility to make and change their plans without having to worry about the train schedule. Additional services accommodate major sporting and concert events, with adjustable departure times to ensure fans can rely on catching the train home.
Modern Trains
Brightline is using modern equipment for passenger comfort and smooth operation. Unified train sets make safe, easy passage between cars. Brightline operates with high-level platforms on tracks shared with freight trains, solving clearance issues with a bridge plate that extends from the train to the platform, allowing seamless, level boarding – no steps and ADA-friendly.
Brightline to Orlando Airport
Brightline's new Orlando station is located in the Orlando International Airport and will arguably offer the most direct connection from an intercity rail line to an airport terminal in the United States. Brightline passengers will have pedestrian access from the train station to the new Terminal C being built on the south end of the airport as well as to the existing Terminals A and B via the elevated people mover system. This kind of convenient link between trains and planes is common in Europe and Asia and is a key factor in making both more successful. This all was made possible because the state created a rail plan in the 1990's that reserved right-of-way through Orlando International Airport and included a railway station in its master plan.
First and last mile connectivity
Brightline recently launched Brightline+, a mobility service that takes riders to and from Brightline stations. Passengers can request a private ride, shared shuttle, or bike to take them anywhere within a five-mile radius of the station. This allows passengers to book their door-to-door trip in one place, and lets them leave their car at home.
A Phased Approach
Brightline is being built in phases to maximize revenue and capitalize on infrastructure improvements as they are completed. In early 2018, trains began serving Miami, Fort Lauderdale, and West Palm Beach. In 2023, service will be extended to Orlando International Airport, following a $4 billion expansion project. The company is now considering extending the line from the airport to Tampa with potential stops at Walt Disney World and in Lakeland as well as a link to Orlando's SunRail commuter train.
Phase 1: Miami – West Palm Beach
65-mile shared use line with freight
79 mph
Operations began 2018
2019 ridership 885,000
Phase 2: West Palm Beach – Orlando International Airport
West Palm Beach – Cocoa

120-mile upgraded shared use line
110 mph
Under construction now, operational 2023
Cocoa – Orlando International Airport

35-mile new dedicated high-speed line
125 mph
Under construction now, operational 2023
Expected annual ridership 3+ million
Phase 3: Orlando International Airport – Tampa
85-mile proposed dedicated line in the medians of I-4 and SR 417
125 mph
Still in planning phases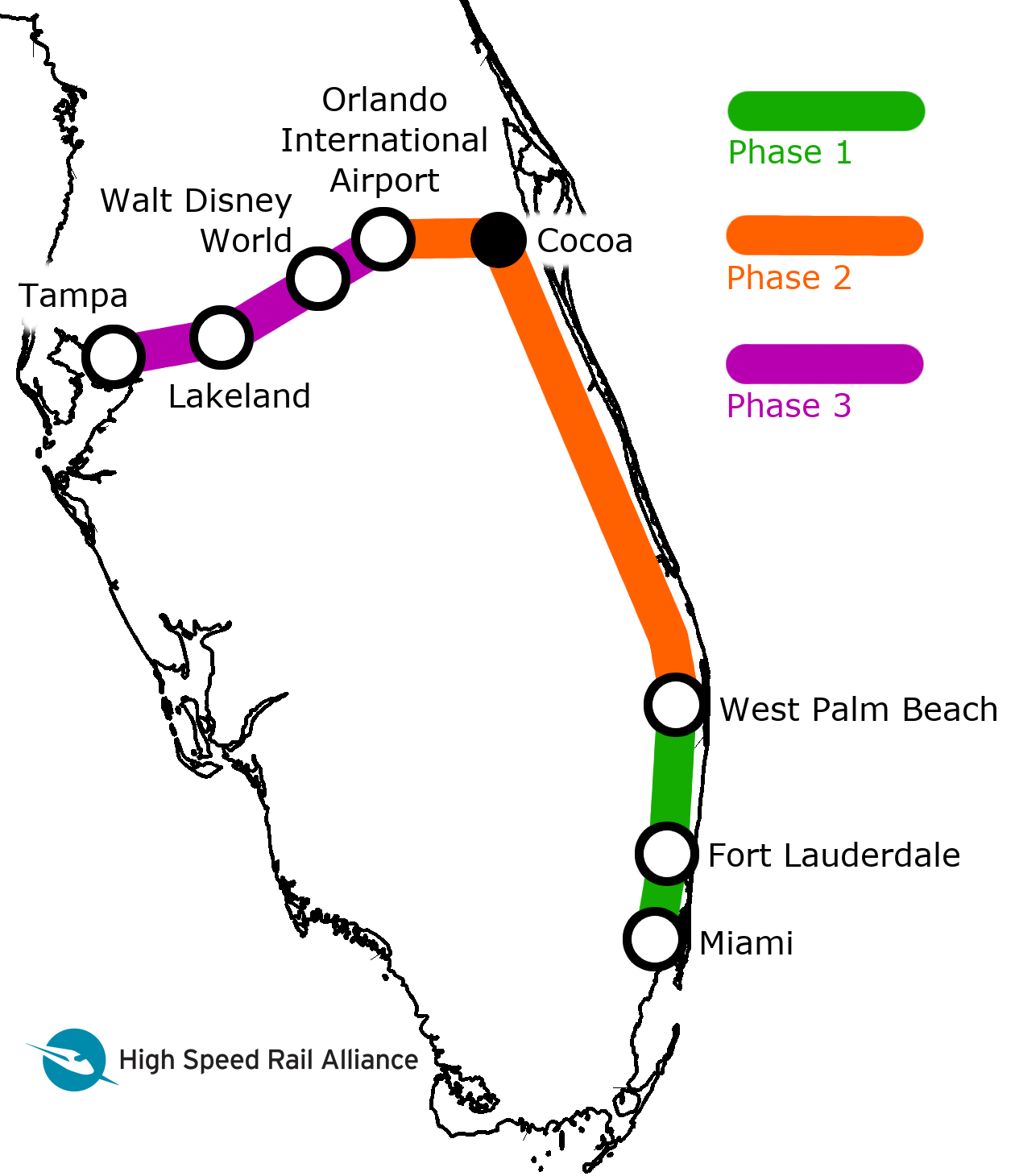 This Brightline map illustrates the three expansion phases of the line.
Brightline map of high-speed and shared-use track allowing speeds up to 125-mph on some sections.
A Network of High-Speed and Shared-Use Lines
Brightline plans to reach as many riders as possible and also capitalize on existing infrastructure by running trains on a blend of conventional, upgraded, and dedicated high-speed track.
Today, Brightline trains share tracks with freight trains from Miami to West Palm Beach. The company is paying for track upgrades on that shared-use line from West Palm Beach north to Cocoa. Those improvements will allow Brightline to run up to 110 mph from West Palm Beach to Cocoa starting in 2023. Brightline trains will seamlessly exit the freight line at Cocoa and head west on the new dedicated tracks to Orlando International Airport.
Future service will extend from Orlando International Airport to Tampa on dedicated tracks in the median of I-4, which was widened in the late 2000s to accommodate high-speed trains.
Use of Existing Transportation Corridors
A common challenge to building new high-speed lines is land acquisition, which can be expensive, slow and controversial. Brightline has circumvented this problem by building new infrastructure within existing transportation corridors. From Miami to Cocoa, Brightline is upgrading the existing Florida East Coast Railway mainline for use as a shared rail corridor. Between Cocoa and Orlando, agreements have been reached to use the existing right-of-way of the Beachline Expressway. Use of these existing corridors allows Brightline to avoid purchasing thousands of individual parcels and keeps the project affordable.
Completed 125-mph double track along SR 528 near Orlando Airport.
Business Model
Brightline's success is built in part on its cooperative relationship with Florida East Coast Railway, their host freight railroad. The two companies coordinate passenger and freight operations so trains run on time. This helps ensure Brightline's reliable frequency – a key selling point for travelers.
Brightline's parent company also owns and is developing real estate near the new stations to capitalize on concentrated travel activity. This revenue channel helps strengthen the company's long-term viability and appeal to investors, who are the financial foundation of the enterprise.
Brightline is funding its expansion primarily through a private activity bond allocation. These tax-exempt bonds issued through the Florida Development Finance Corporation helped attract billions of dollars in private capital, helping make Brightline more competitive with publicly-financed transportation systems like highways and airports, which are massively subsidized by taxpayers.
For the first time in many decades, a for-profit company is making a big bet on a fast, modern intercity rail system. If they succeed, Brightline will be a case study for making high-speed or higher-speed rail a real business proposition in other markets.