The Visionary California Rail Plan Will Produce a Stunning Increase in Ridership and Revenue
The California Rail Plan is unique in three important ways:
It plans on real growth: a 1,000 % increase from 2010 to 2040
It is network focused, connecting the whole state
It supports all kinds of trips, all through the day
The First in the US
California's Rail Plan is unique in America, and it's an excellent model for other states to follow.
Most states have a plan, but it's basically just a wish list of projects. Little or no thought is given to how each part can build on, support, and multiply the value of other parts.
But the California plan begins with the big-picture view, looks forward to 2040, and integrates all the parts—including trains, transit systems, and even bikeways.
Instead of individual segments operating in isolation, the plan produces a high-impact, integrated network that delivers maximum value to the state.
California's plan was originally released in 2018. It is being updated for 2023.
A True Growth Plan
California's high-speed line from San Francisco to LA—now under construction—will drive a tenfold increase in ridership by 2040 by feeding passengers to other routes throughout the state.
That will be a huge step toward achieving the state's ambitious climate-change goals.
A Network, Not Corridors
California's statewide plan focuses on creating synergies through smart, tight integration of all lines and corridors—and all travel modes.
This strategy produces a superior railroad network—and helps secure funding to build and expand it. That's because:
1) The highest-impact segments can be identified and built in the early stages—so that the system starts delivering value to as many riders as possible, as soon as possible. This is why California began its high-speed rail project in the Central Valley.
2) Having a big-picture plan fosters cross-agency cooperation—one of the hardest parts of getting a network built.
3) Well-integrated networks and coordinated train schedules make transfers to other lines and travel modes easy and convenient. This accessibility drives up ridership—which drives down the per-mile cost of operating the network.
4) Each element can be evaluated by its overall contribution to the network, instead of its value as a stand-alone entity. This big-picture view changes the cost-benefit calculus. It justifies investments in new lines, upgraded infrastructure and vehicles for older lines, and frequent service on both.
"Pulse" Schedules
The plan includes a full system timetable for the year 2040.
The plan assumes "pulse" scheduling in with departures at defined intervals.
For example, a busy line might have a train at 0:01, 0:16, 0:31 and 0:46 minutes after the hour every hour. A less busy line might have a train at 0:16 minutes after the hour every two hours.
At key hubs, all of the trains and buses would arrive at the same time to facilitate easy transfers.
Virtuous Cycles
Thinking about trains and transportation networks this way is transformational. The focus shifts from adding isolated parts to fostering virtuous cycles.
What does that mean?
When the parts and the whole are well-integrated—and coordinated schedules make transfers between the parts easy—the value for riders steadily increases. That drives up demand, which creates political will to improve and expand the system. As the system improves, it becomes more valuable to riders. And so on.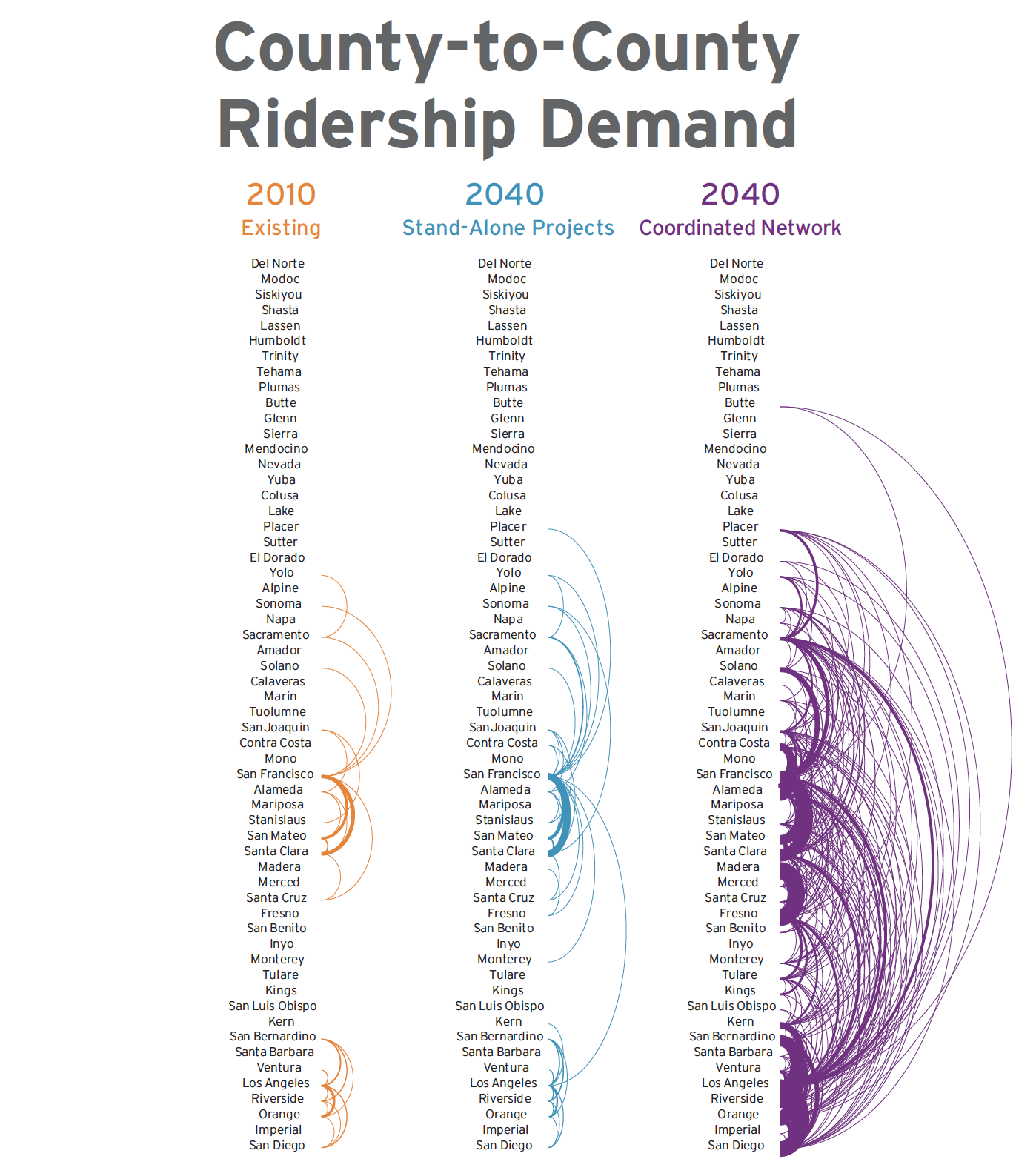 How California Became the Leader
It committed to major investments in better passenger trains and transit systems in the early 1990s – including extensive high-speed rail planning.
As service steadily improved, people came to value it more. In 2008, California voters approved construction of the high-speed line. A decade later, the state's visionary rail plan brought all the parts together. And looked forward to the possibilities in 2040.
The takeaway from that story?
Every state needs a statewide integrated plan.
All it takes is the vision and political will to get started.
A federal program is needed to get it done.
California is far ahead of the rest of the country in developing high-speed and regional rail. But they are unique. Most of their routes do not cross state lines.
Most states will require an Interstate Railway Program to build multi-state networks. And California cannot achieve its full potential without a federally-led program.
The recent Bi-Partisan Infrastructure Law is a great step in the right direction. Much more needs to be done.
Please join us in asking Congress to create an Interstate Railway Program.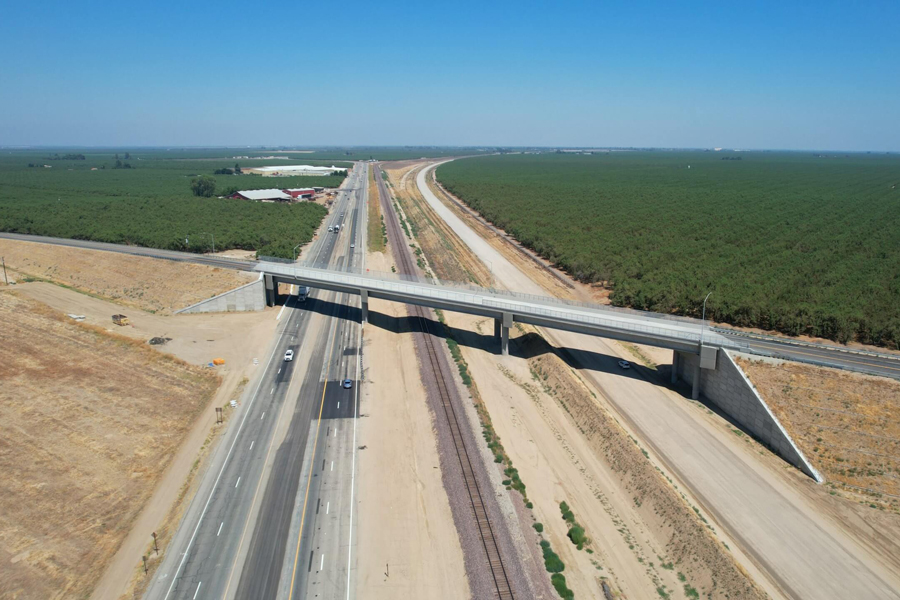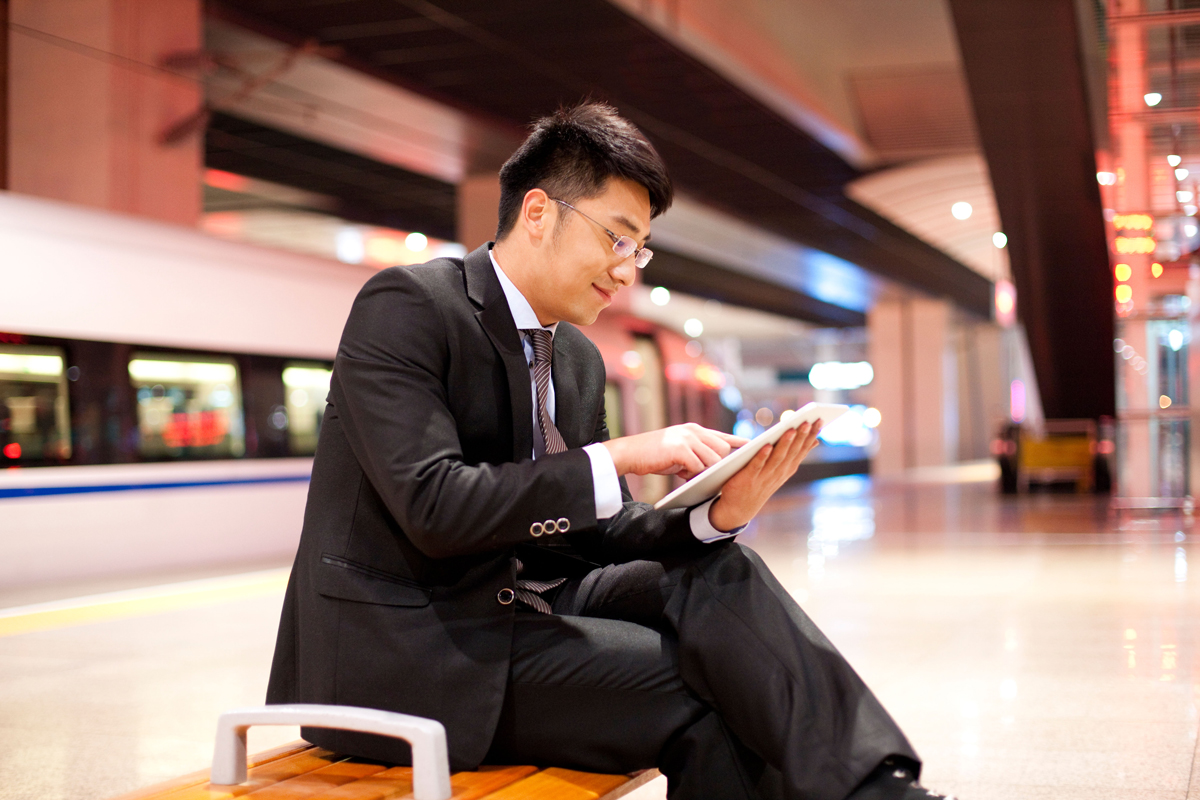 Take Action
The country needs an Interstate Railway Program, like the Interstate Highway Program, to take full advantage of the community, economic, and environmental benefits of trains.
Please join with us in asking Congress to create a national railway program to re-connect America with fast, frequent, and affordable trains.