Fast, frequent, world-class
Silicon Valley's commuter-rail service, Caltrain, is undergoing improvements that will make it the first true regional rail line in the U.S.
This exciting project will create a transformative travel experience, with cruising speeds of 110 mph and departures every 15 minutes throughout the day.
California's high-speed rail initiative has been essential to Caltrain improvements.
Caltrain's innovations are also planned for the Los Angeles Metrolink commuter service and should be replicated in cities throughout the country.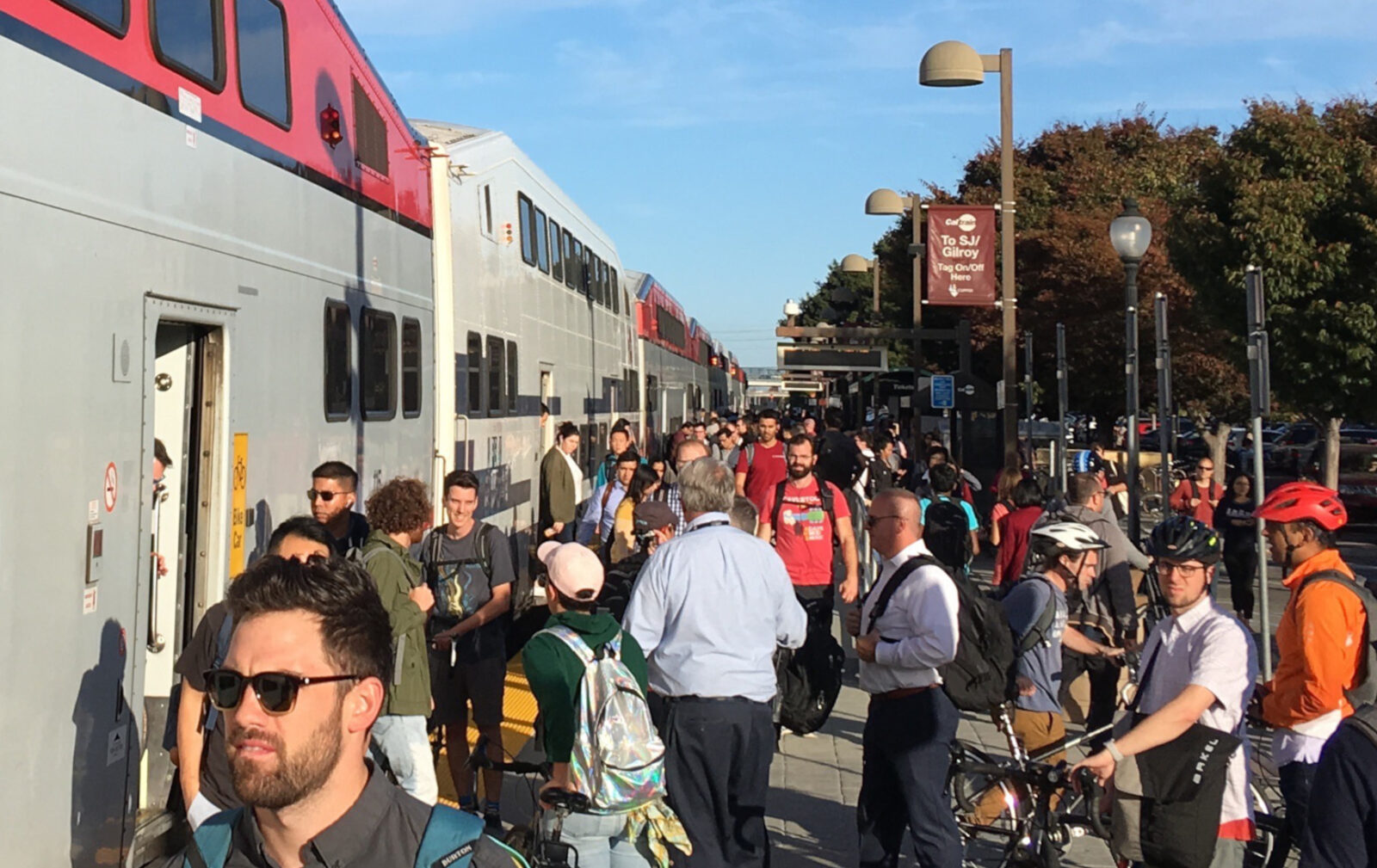 Fast, frequent service is the foundation for any transit system's success. More options and excellent service draw more riders. Riders increase revenues. Revenues drive more investments. Investments generate better service. It's a virtuous cycle.
Electrified tracks will allow for an increase in top speeds—from the current 79 to 110 mph. And the system's new, electrified trains will stop and start faster than old, diesel equipment.
The best way to achieve world-class transit is by supporting high-speed rail, which always drives investments in transit. Caltrain and HSR trains will share the same tracks. They're being planned together. They share a funding stream. They're inseparable in every way.
Efficiency
California's new trains will run on renewable energy, and they'll have the carrying capacity of 12 highway lines—but they take up the space of just two.
Growth
Ridership on Caltrain has tripled since 2004. It's expected to double again as the result of a long-range service vision that includes electrification, an extension into downtown San Francisco, grade separations, and a new station complex in San Jose.
High-speed rail was key to Caltrain funding
A variety of agencies are funding the $1.9 billion project, including the Federal Transit Administration and many local and regional governments and agencies.
But California's high-speed rail program was the cornerstone, funding more than one third of the Caltrain modernization project.
A national example for regional rail
Caltrain sets the precedent for how to build and run a successful railroad. It requires a big-picture vision and a long-term commitment.
Today's modernization project is the result of California's decision to make big investments in rail starting in the early 1990s.
While some cities try to save their transit systems by cutting service, Caltrain is doubling down on fast trains and frequent service – even in the face of the pandemic – demonstrating what world-class regional rail can be.
In November 2020, voters voiced their approval by granting Caltrain its first dedicated funding source, $108 million per year until 2050.