The Central Valley: The Heart of the System
High speed rail doesn't spring up overnight. It has to be built, both centrally and along towns and cities across the region. It needs to connect local stations and bus lines with cities hundreds of miles away. And that requires a starting point.
It requires a backbone to grow from. In California, the first step is the Central Valley high speed line.
By building in the Central Valley, California can link the major cities. We can connect cities and towns across the state. We can tie a spread of local lines into one system.
It's not just about going fast through the Central Valley. It's about building the key to truly effective high speed rail in California.
How The Project Works
California is building high-speed rail to link Los Angeles to San Francisco in under 3 hours. The first 171-mile segment, from Merced to Bakersfield, is under construction now.
In the first phase, high-speed trains will make 18 daily roundtrips—versus the 7 daily roundtrips that Amtrak now offers. Travel time from Merced to Bakersfield will be slashed from 3 hours to about 90 minutes.
As the center of California's statewide plan for high-speed rail, the Central Valley segment will link together a densely populated region that's about the size of South Carolina.
It's a great place to demonstrate the power of 220-mph high-speed trains for the first time in the U.S.
Why The Central Valley?
The ultimate goal is a thriving network of high-speed trains that link all of California. Getting there requires a solid foundation and a starting point with statewide impact.
That's exactly what the Central Valley segment delivers:
Population of 4 million people
Flat enough to build long stretches of 220-mph track without drilling tunnels
An extensive network of connecting trains and buses already in place
Strong economy and thriving agribusiness sector
An institutional web of dozens of colleges and universities
A Connected California
The Central Valley line is incentivizing important upgrades to California's rail and bus systems.
At Merced (the north end), ACE and Amtrak service will expand to a combined 18 departures, with service to Oakland, Sacramento, and San Jose.
At Bakersfield (the south end), service on connecting buses will expand to match the 18 daily, roundtrip high-speed trains. Roughly 75 percent of Amtrak passengers catch buses toward the L.A. region at Bakersfield.
Huge Impacts—Today and Tomorrow
The ripple-out effects of the Central Valley line will cause ridership and revenue on trains and transit systems statewide to roughly double.
The increased revenue means that the state's contribution to ongoing operating expenses will fall by about $20 million annually. And those savings can be invested in better service on other routes.
This virtuous cycle—lower operating costs and steadily improved and expanding services—will build the political will to fund the full Bay Area to L.A. line.
There are plenty of immediate payoffs to the Central Valley line as well. Construction is already having a huge impact by:
Forcing changes to outdated federal regulations. For example, railroads can now run light trainsets that start and stop faster than heavier trains.
Teaching lessons that can be applied to new projects across the North American context.
Creating and sustaining a supply chain for domestic high-speed rail manufacturers.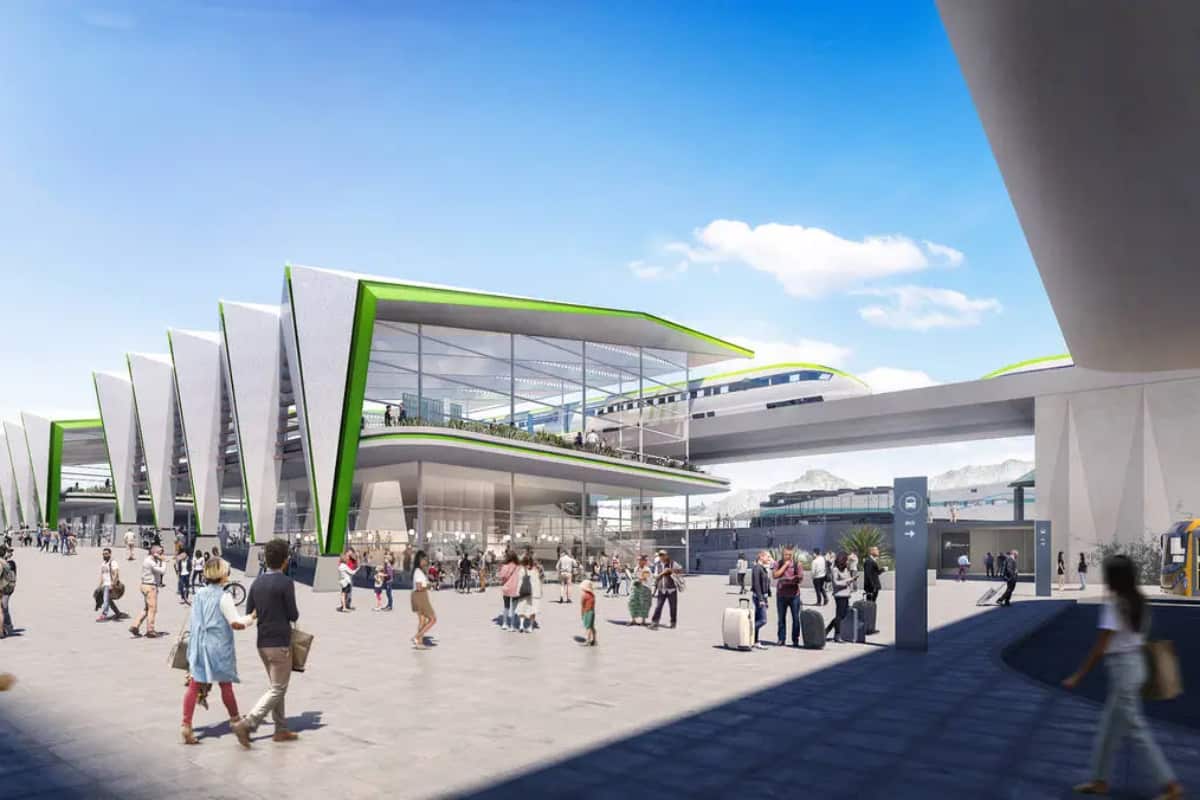 It's a Beautiful Country
Let's see it. Let's clean it. Let's build it. Let's make high speed rail a reality.