Issue in Brief
Brightline Florida: A Model for Intercity Regional Rail
Brightline recently launched a new corridor linking Orlando and Miami with the fastest American trains outside the Northeast. The trains, with a 125-mph top speed, have already shown that Americans will ride fast, frequent, and reliable trains.
Key Takeaways
Brightline planned for success with hourly service from the start.
The shared-use section along the coast offers a new model for freight and passenger railroads to work together.
The new-construction east-west section was made possible by Florida's offical high-speed rail plan.
Replicating the Success
The Brightline is a unique business model combining real estate development, jointly-owned railroads, and an existing state high-speed rail plan.  Congress will have to create a new federal rail program to gain similar success nationwide.
The Brightline Experience
Hourly departures, great trains, and well-located stations are the keys to Brightline's success.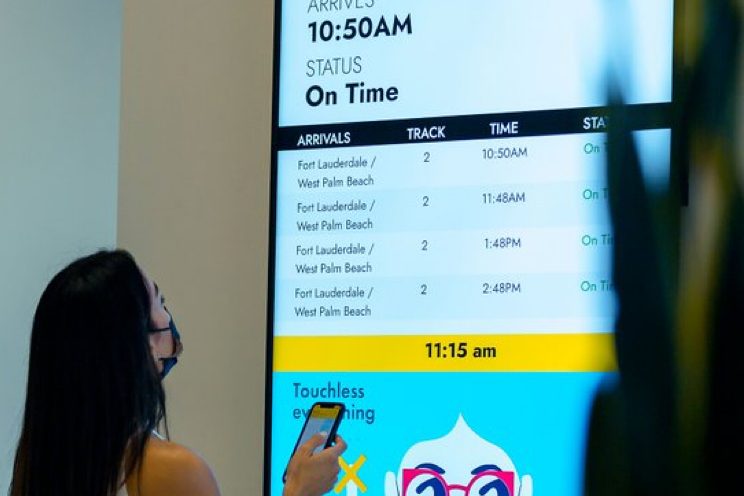 Hourly Departures
People travel for many different reasons, throughout the day. Hourly service gives you the flexibility to travel when you want.
Comfortable stations
Stations are clean, bright, and inviting.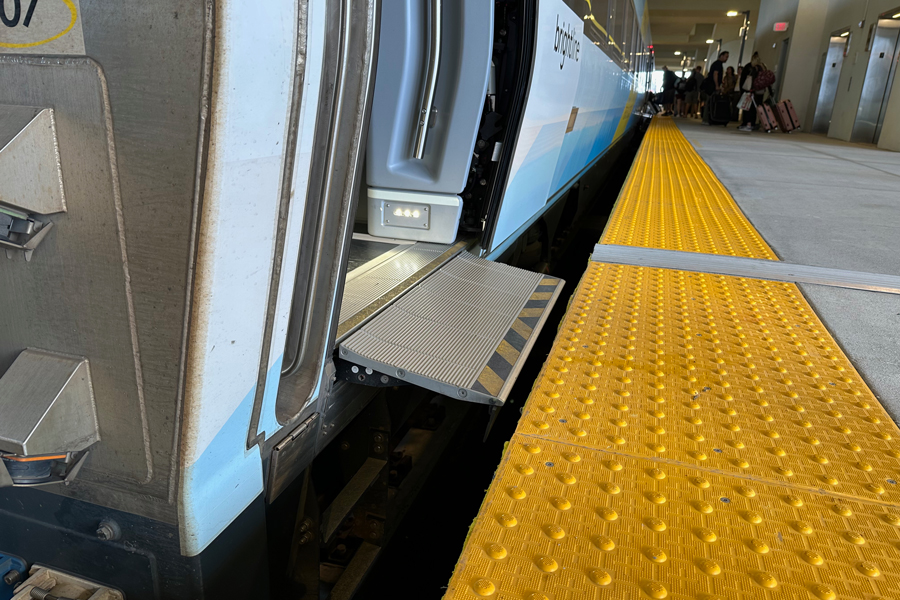 Level boarding
Level boarding makes it easier for everyone to get on and off the train.  And, it reduces time spent spent in the station.
Comfortable Coaches
Wide aisles, plenty of legroom, and wide windows make the train a pleasure to ride.
Optional Tables
There are several tables available if you are traveling with friends or would like to work.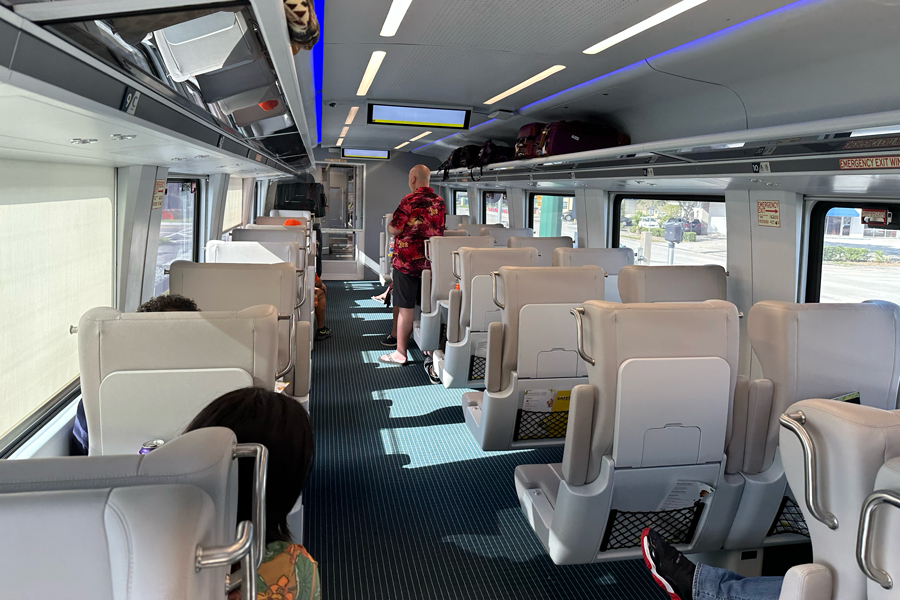 Premium Class
Premium Class offers wider seats and more legroom.
Brightline to Orlando Airport
Brightline's main Orlando station is part of Orlando International Airport's Terminal C.  It offer the most direct connection from an intercity rail line to an airport terminal in the United States. There is an easy connection to Terminals A and B via the elevated people mover system.
This was made possible because Orlando International Airport included the railroad station and track access in its master plan, in concert with a state high-speed rail plan.
The Brightline station at Orlando Airport is part of Terminal C.
Well-Located Stations
Brightline's stations are close to the action.  In fact, they are walking distance from the courthouses in both Miami and West Palm Beach.  A sister company has developed multi-use high rises near the stations.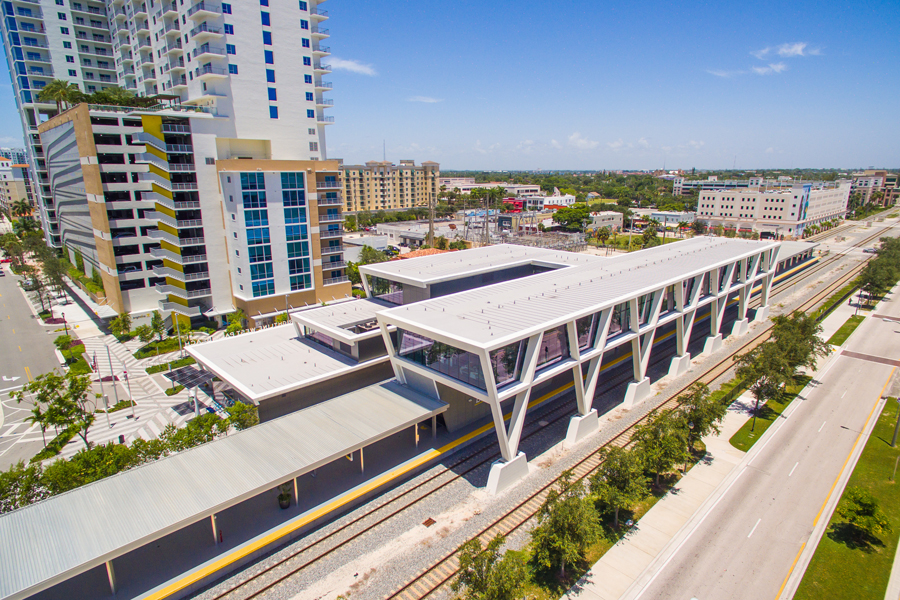 A new high-rise developed by Brightline's sister company is located next to the West Palm Beach station.
First and last mile connectivity
With Brightline+ you can request a private ride, shared shuttle, or bike to take you anywhere within a five-mile radius of the station.
The Brightline Business Model
Strong partnerships with the host railroad, local governments, and state agencies is critical.
A Phased Approach
Brightline is being built in phases combining a shared-use section along the coast and east-west segments dedicated to passenger trains.
Miami – West Palm Beach
65-mile shared-use line with freight, 79-mph
To be shared with Tri-Rail commuter trains.
Opened 2018
West Palm Beach – Cocoa
120-mile shared-use line with freight, 110-mph
Opened 2023
Cocoa – Orlando International Airport

35-mile dedicated line, 125-mph
Opened 2023
Orlando International Airport – Tampa
85-mile proposed dedicated line, 125-mph
A portion to be shared with Sun-Rail commuter trains.
Still in planning phases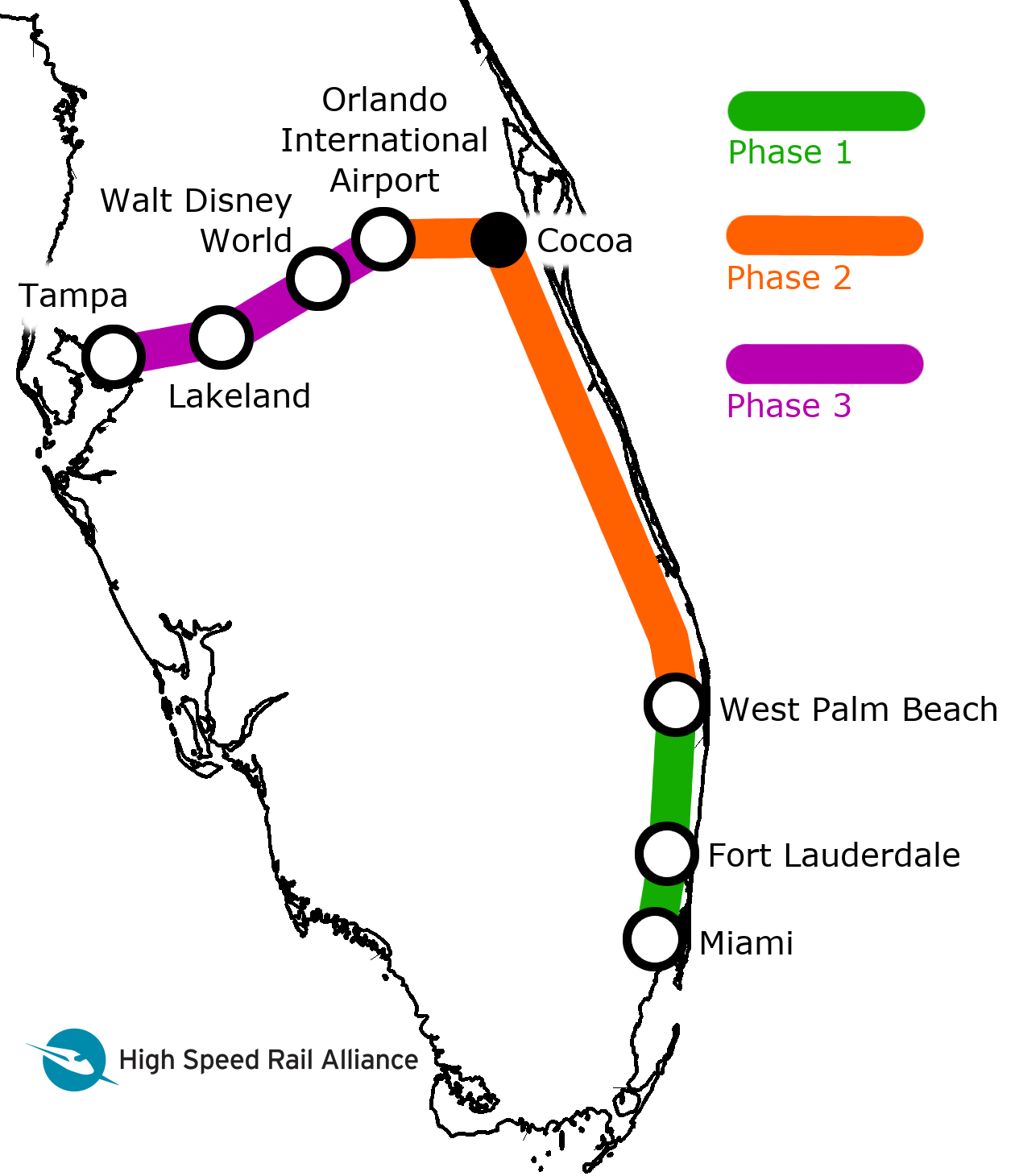 This Brightline map illustrates the three expansion phases of the line.
A Strong Partner with the FEC
Brightline's success is built on its strong partnership with Florida East Coast Railway, which owns the tracks along the coast.  Brightline invested heavily in new track, new signals, and safer grade crossings.  They also pay the FEC well to use the tracks.
A separate company, owned jointly by both railroads, ensures that both freight and passengers run on time.
Brightline added a second track and improved grade crossings along the entire line.
Brightline is located next to Florida Route 528 between Cocoa and Orlando.
State and Local Partners
Brightline was able to take advantage of a state policy setting aside right-of-way alongside some highways for high-speed rail.
Tax-exempt bonds issued through the Florida Development Finance Corporation helped attract billions of dollars in private capital.
Universal Studios and Orange County are creating a stand-alone taxing district to build a station near the Convention Center.
Sunrail (Orlando) and Tri-Rail (Maimi) will use Brightline infrastructure to run local regional trains.
Joint Real Estate Development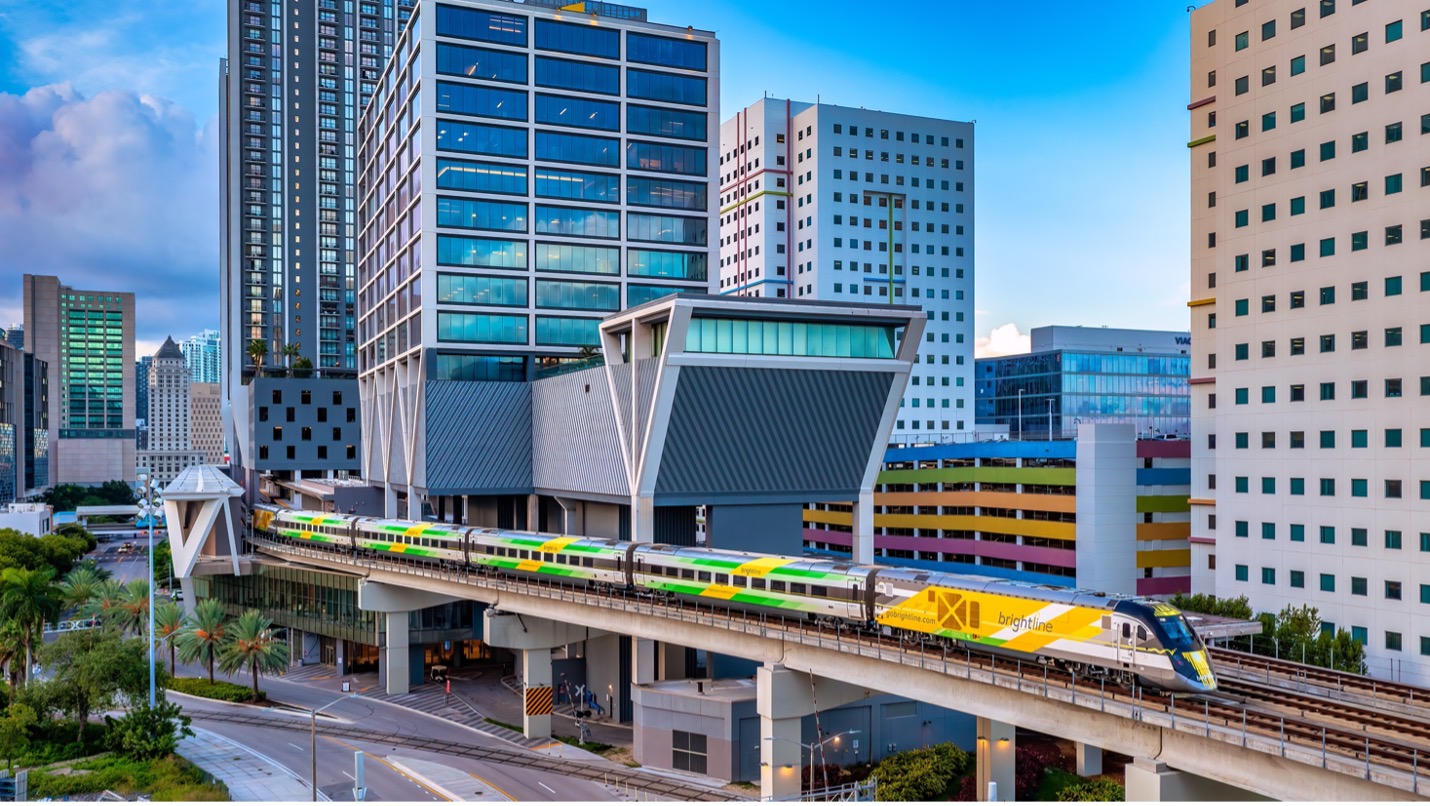 Brightline's sister company owns and is developing real estate near the new stations to capitalize on concentrated travel activity.  This, in turn, feeds more passengers to the railroad.
The biggest example is Miami Central station which was built in conjunction with three high-rise buildings on the site of surface parking lots.
Tell Congress that you want more trains like Brightline!
A for-profit company is making a big bet on a fast, modern intercity rail system. Congress should create a federal program to encourage similar success nationwide.