California Leads The Way—But There's Work To Do
The state of California is building high speed rail.
Voters have approved the system, environmental studies are being completed, and money is outlaid to start the project.
So what's left? How do we continue to improve transportation across all of California?
By encouraging lawmakers to complete the project sooner. By getting the federal government to commit more. And promoting the modernization of tracks and stations across the state, truly unifying the entire state.
Los Angeles to San Francisco in Three Hours
The twin heartbeats of the Golden State are LA and SF.
If you're driving, you either wind through the Central Valley or up the coast, on a scenic road that doesn't lend itself to speed. At best, you're driving for six hours. WIth crowded airports and lengthy delays, flying is hardly better.
That's where high-speed trains come in. By cutting new tunnels though the mountains, high speed rail will make the trip between cities faster, easier, and more efficient.
Step on a train in Los Angeles in the morning. Ride in comfort with room to stretch around. Be in San Francisco for lunch. It's within our grasp.
Beyond the Cities: High Speed Rail Connects Hundreds of Cities and Towns
California is more than its biggest cities. There are suburbs, exurbs, rural communities, small towns.
All of these have life and character. All of them have people who deserve better transportation. High speed rail gets them where they are going.
With timed connections to California's excellent conventional trains and buses, high-speed rail will link hundreds of cities and towns across the state.
How? Because high speed rail is more than the fastest trains. It's a way to create connections.
Build the Backbone To Kickstart California
Speed and frequent departures are needed to overcome California's entrenched car culture.
How do we get there? By connecting all of California. And that means building a backbone that:
Closes the gap between the Central Valley and LA
Links regional train lines
Connects with buses and other modes of transportation
Unites many cities and towns
Starting in the Central Valley gives California the opportunity to create a truly unifying system.
Help Us Build The Future of California
Want to help make an American high speed rail network a reality? Join the Alliance today. Your passion makes us stronger.
It Starts In The Central Valley
How do we connect a thriving network of high-speed trains that link all of California?
We need to start building at a spot with a statewide impact, that can connect the disparate sections.
That's exactly what the Central Valley segment delivers:
Population of 4 million people
Flat enough to build long stretches of 220-mph track without drilling tunnels
An extensive network of connecting trains and buses already in place
Strong economy and thriving agribusiness sector
An institutional web of dozens of colleges and universities
Reimagine The Cities
Making the heart of the system even better.
The Link Union Station Project (Link US) is a $1 billion expansion of the facility funded in part by California High-Speed Rail. Link US will give the station "through" tracks by extending the station to the south over U.S. Highway 101, allowing trains to pass through the station in both directions. The initiative will result in massive capacity improvements, allowing for frequent high-speed and regional train departures seamlessly integrated with local transit.
Silicon Valley's commuter-rail service, Caltrain, is undergoing improvements that will make it the first modern regional rail line in the U.S. This exciting project will create a transformative travel experience, with departures every 15 minutes throughout the day. It's fast, it's frequent, and it's first-class.
Another important segment is ready to go. Brightline West has environmental clearance to construct a Las Vegas – Victor Valley segment of high-speed line. A connection to the LA – Silicon Valley high-speed line at Palmdale has been designed. A link over Cajon Pass is in the works. Brightline West and California High Speed Rail will feed traffic back and forth, making each more valuable, and making the critical Tehachapi Pass crossing easier to finance.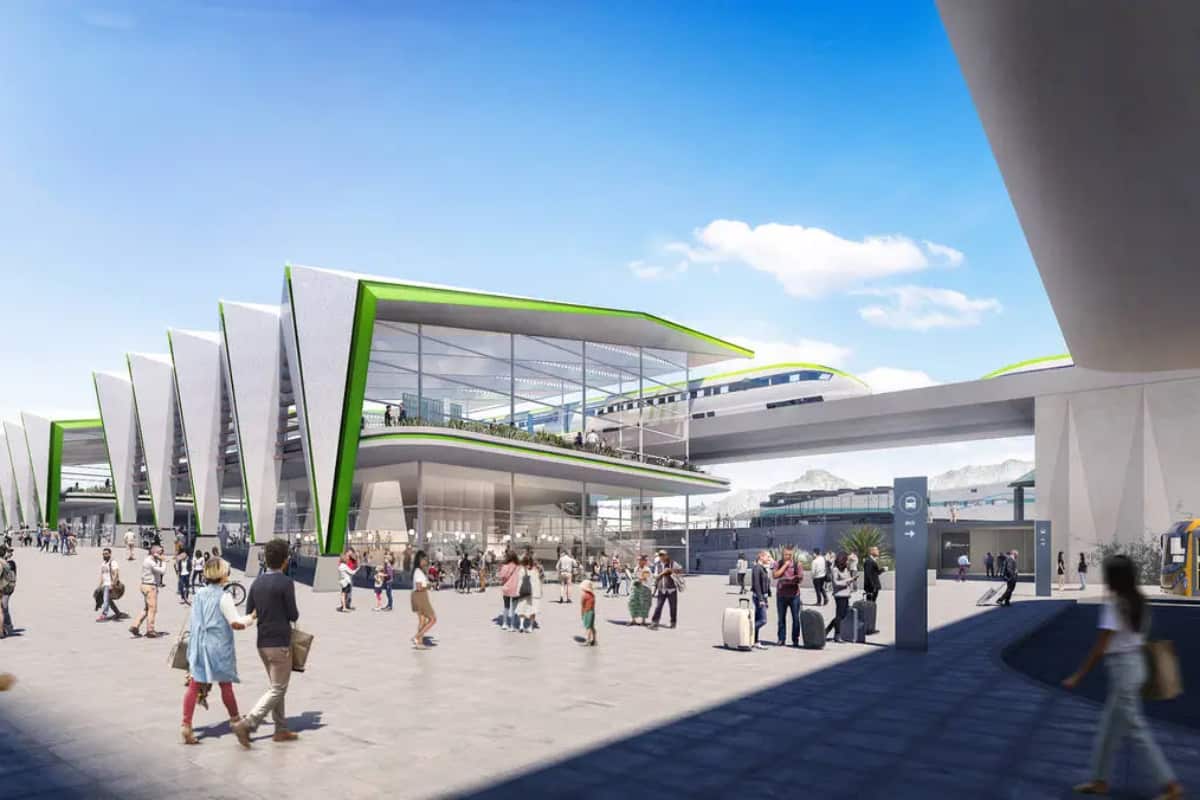 It's a Beautiful State
Let's see it. Let's connect it. Let's build it. Let's make high speed rail in California a reality.